Oranges ... and ... olives ... In the same dish? Salad, you say? Oh, no thank you. I'll have my oranges and olives separately, thank you very much. But the Moroccans might be on to something with this salad.
Truth is, I made the Dorie's "Bonne Idée" version of this salad which included oranges, but no olives. I made this for lunch with my son and oldest daughter, and she doesn't like olives at all so the Bonne Idée was the way to go.
I still found it odd to put onions on a salad with oranges! But I follow directions ... sometimes. I soaked the red onion in ice water to remove the bitterness and keep them crisp ...
Orange slices ...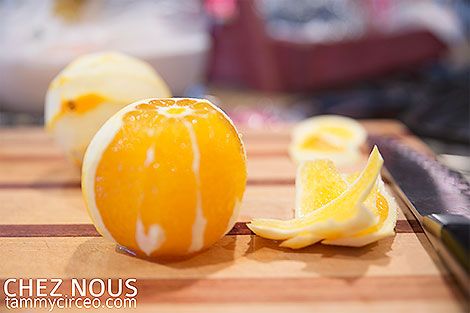 ...drizzled with lemon juice (Meyer lemon ... because why would you use another variety?), and orange blossom water, sprinkled with a little confectioner's sugar, cinnamon, and fleur-de-sel and topped with sliced dates and almonds.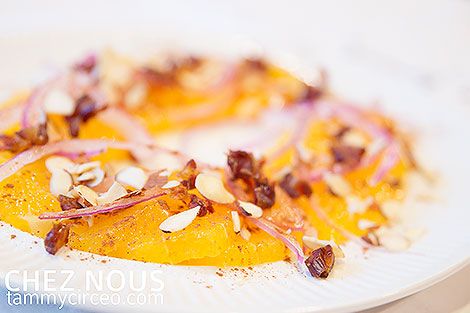 This salad was a surprise for me. I didn't expect to like it because it just sounded weird. I paired it with baked Ling Cod seasoned with salt, pepper, garlic, and butter. The salad was a wonderful complement to the fish and is one that I'll make again ... and next time, I'll try the Nicoise olives.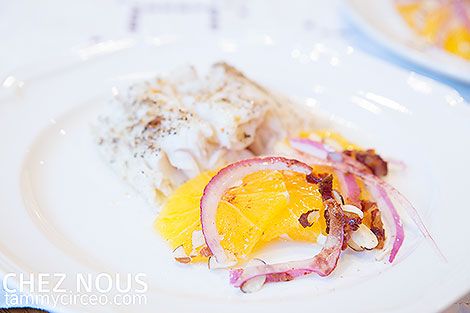 Bon Appétit!
(If you're new around here or are wondering what French Fridays with Dorie is ... It's an effort to use one of Dorie's recipes from her cookbook Around My French Table each week. The recipes are decided on by popular vote on the website French Fridays with Dorie. Purchase your book HERE and play along! Find what others thought of this recipe HERE.)