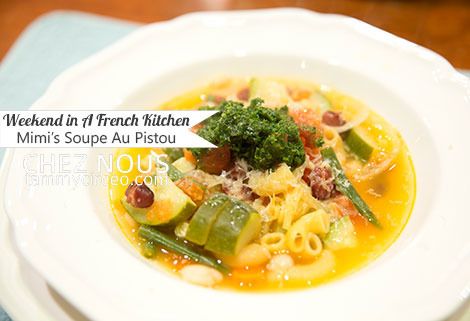 Soupe Au Pistou is a Provencal vegetable soup with the French version of pesto, a basil-garlic paste that imparts so much flavor to whatever it tops.
But let's go back to the beginning. This soup gets its filling factor from the beans ... red and cannellini. I'm sure you could use canned, but soaking them and cooking them from scratch takes little hands-on time and just a bit of on-the-stove time. I put them on to cook while I taught piano lessons. It's all about multi-tasking, folks. :)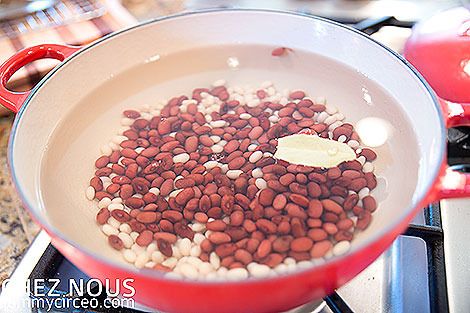 I scoffed at peeling the tomatoes until I remembered that I had a "soft-peel vegetable peeler". It makes the job of peeling tomatoes almost pleasant and certainly effortless.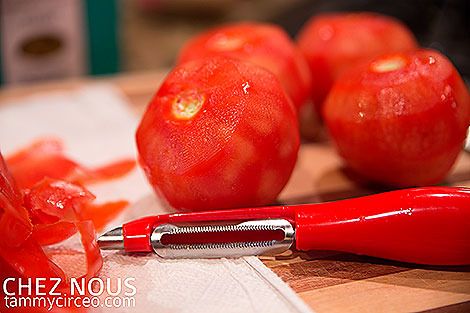 So ... what are the vegetables in this soup? I guess it could be a variety of late summer vegetables, but Mimi's traditional version calls for tomatoes, zucchini, onions, carrots, green beans, leeks, and garlic. All of it is diced and sliced ...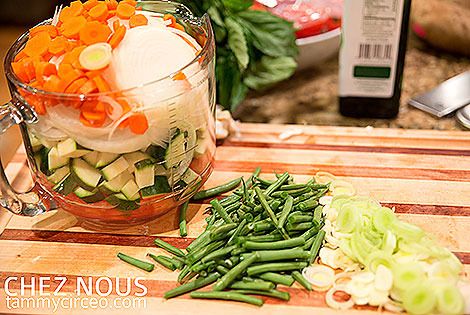 Mimi suggested cutting the beans into 1/4-inch slices, but I cut them into 1-2 inch pieces. And making this again, I wouldn't slice the onions, but rather choose a way to cut them that makes them easier to scoop onto a spoon and not trail down my chin while taking a bite. One must always consider the eating experience when chopping, slicing, dicing ... and ultimately serving.
All of the vegetables are cooked in water, seasoned with salt and pepper. Macaroni is added (I used a quinoa pasta as a gluten-free option) and finally the cooked beans are stirred in and warmed.
In my opinion, the pistou makes this soup. I served it with the pistou on the side so it could be added to each bowl as desired, but before I stored the leftovers, I stirred the rest of the pistou into the soup. Definitely a good choice.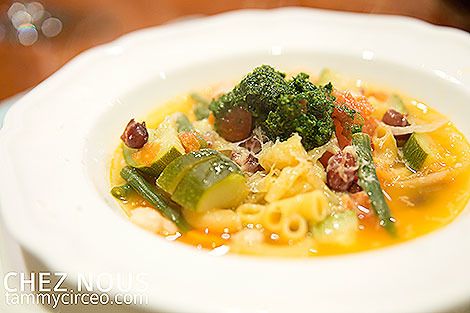 Bon Appétit!
{According to the rules of Weekend in a French Kitchen, we do not publish the recipe. However, you'll not regret it one minute if you purchase the cookbook and cook along with us! Visit our website to join! Check out the other members' posts HERE.}